Products Overview
We have identified products and services that, in our opinion, are either unique or "best-of-breed."

Scientific Cat Litter™ is a unique high quality product that all cat owners should consider having available for periodic use.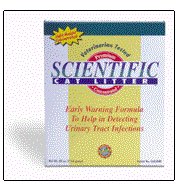 Scientific Cat Litter
Retail price: $14.95 per box
U.S. Patent No. 5655480
Scientific Cat Litter™ warns owners if the pH level in their catīs urine as it approaches 7.5 or above. This patented cat litter turns a shade of red if the cat is suffering an imbalance. The darker shade of red the more serious the problem may be. This concentrated cat litter is also clumpable, flushable, odor free, dustless, environmentally safe & lightweight with 2 lbs. equaling 14 lbs. of other brands.
We are a stocking distributor for Scientific Cat Litter™ from Pet Ecology Brands, Inc.

This is the only cat litter that features a built-in FUS/FLUTD detection system.
We will be pleased to ship this innovative product to you by mail. Please plan to ask your veterinarian if they carry this product!
CALL us today for special pricing!
805-312-4824
For a limited time and available only to our Internet Customers, we are offering a special discount on Scientific Cat Litter. This offer is only good until July 4th 2005.
All of the items listed above are currently in-stock and can be shipped via U. S. Mail to your location. We will charge you the regular postage rate and a $2.50 handling fee per order.
For more information or to place an order, please contact us at 805-312-4824.
We look forward to serving you.